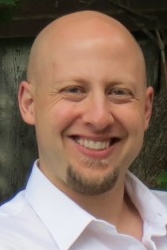 While earning your EMDRIA certification, finishing your basic training hours through EMDR HAP, working towards becoming an Approved Consultant, or simply looking for guidance on individual cases, Mark Odland – MA, LMFT, MDIV looks forward to helping you meet your goals.  As an EMDRIA and EMDR HAP Approved Consultant, he is qualified to provide you with the high quality consultation necessary to understand the AIP model and master the standard 8-phase, 3-pronged protocol.  However, he strives to do so with a spirit of fun and curiosity within a relaxed and non-judgmental atmosphere (to read more about Mark's background, please browse his "Consultant Bio."
Mark has always been a creative person, and to this day maintains an interest in visual art, writing, and music.  Drawing, in particular, has been a gift and passion of his since he was a young boy.  He always loved to draw, and had the unique ability to reproduce on paper what he saw in front of him.  Growing up he kept busy with many things including sports and music, but as a freshman at Augustana college in Sioux Falls, SD, he was able to finally focus on his passion for art.  He wavered between becoming a professional artist, an art teacher, and a graphic designer, and ultimately settled on double majoring in art and religion.
It was here at Augustana that Mark was fortunate enough to be mentored by nationally-renowned artist Carl Grupp, who inspired him to continue to create art long after graduating.  To give you a sense of this eccentric mentor, imagine a man who looks like Santa Clause but has red hair instead of white.  He was interested in the deep questions of life, had a japanese garden in his backyard, and has a cat named Charmin Ultra (yes, he named his cat after a brand of toilet paper).  It was a great time in Mark's life, and he spent countless hours in the drawing and printmaking studios there refining his skills.
While his journey led Mark to become a therapist, he finds that there are still opportunities to express his creativity.  He understands that the 8-phase, 3-pronged standard EMDR therapy protocol is a blueprint for success, and should be followed whenever possible.  However, he tries to balance this with the unique needs of each client, and frequently attends trainings for unique protocols that become necessary where the standard protocol alone is not enough.
If you have any questions or would like to set up a consultation session, please call Mark at (844) 872-8625 or fill out the Contact Form below.