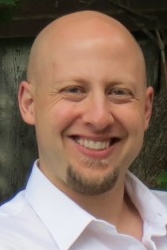 While earning your EMDRIA certification, finishing your basic training hours through EMDR HAP, working towards becoming an Approved Consultant, or simply looking for guidance on individual cases, Mark Odland – MA, LMFT, MDIV looks forward to helping you meet your goals.  As an EMDRIA and EMDR HAP Approved Consultant, he is qualified to provide you with the high quality consultation necessary to understand the AIP model and master the standard 8-phase, 3-pronged protocol.  However, he strives to do so with a spirit of fun and curiosity within a relaxed and non-judgmental atmosphere (to read more about Mark's background, please browse his "Consultant Bio."
Mark has good experience working with military veterans, and is able to bring the knowledge he has gained to the consultation process.  He is privileged to have been one of the original therapists asked to participate in the Veteran Resilience Project, a program allowing military veterans in the state of Minnesota to receive 12 hours of EMDR therapy, free of charge.  EMDR is recognized as an effective therapy for PTSD by the United States Department of Defense, and was recently recognized as one of only two therapy options endorsed by the World Health Organization to treat trauma.  However, despite these endorsements, many veterans still do not have access to EMDR therapy.  Funded by grant money, the Veteran Resilience Project allows veterans to receive truly confidential therapy without fear of the process impacting their career.  It also helps alleviate the financial barrier that many veterans face upon returning to civilian life.  Originally started through the EMDR Humanitarian Assistance Program, the project has now grown into its own non-profit, positioned to help more veterans for years to come.
As part of the process, Mark has had the privilege of receiving two trainings from Howard Lipke, Ph.D., one of the preeminent authorities on EMDR therapy with military veterans. With over 35 years of experience working with this population, he graciously shared the wisdom he gained with Mark and the other project therapists.  During EMDR consultation, Mark would be happy to pass this wisdom on to you as well.  In a world torn asunder by violent conflicts worldwide, the number of "wounded warriors" in our midst continues to rise.  The posttraumatic stress they endure often leads to addiction, broken relationships, and suicide.  If you work with trauma long enough you will likely encounter veterans in need of EMDR therapy, and during EMDR consultation Mark is prepared to provide practical insights for working with this population.  He understands that we have the great honor and privilege of bringing hope and healing to those who have served, and by doing so impact not only their lives, but the lives of generations to come.
If you have any questions or would like to set up a consultation session, please call Mark at (844) 872-8625 or fill out the Contact Form below.