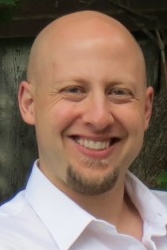 While earning your EMDRIA certification, finishing your basic training hours through EMDR HAP, working towards becoming an Approved Consultant, or simply looking for guidance on individual cases, Mark Odland – MA, LMFT, MDIV looks forward to helping you meet your goals.  As an EMDRIA and EMDR HAP Approved Consultant, he is qualified to provide you with the high quality consultation necessary to understand the AIP model and master the standard 8-phase, 3-pronged protocol.  However, he strives to do so with a spirit of fun and curiosity within a relaxed and non-judgmental atmosphere (to read more about Mark's background, please browse his "Consultant Bio."
Mark provides EMDR consultation knowing that a client's spirituality is often an important component of the healing process.  Whether or not the client believes in God or participates in organized religion, issues that could be considered "spiritual" in nature inevitably arise during EMDR therapy, as the healing brain propels one toward questions of meaning, significance, and purpose.  In his practice Mark has found that a client's spiritual history and belief system can be not only an incredible resource, but also a source of trauma.  As such, to neglect this important aspect of a client's life is to neglect the fulness of their story, and potentially hinder the healing process.
Given the importance of spirituality for so many clients, Mark founded the EMDR Therapy and Spirituality group through EMDRIA.  It is an opportunity for EMDR therapists around the world to discuss the integration of EMDR therapy and spirituality, build community, and develop helpful resources for clients and therapists.  Mark's passion around spiritual issues goes back many years.  He received a Bachelor of Arts degree from Augustana College in Sioux Falls, SD, where he double-majored in religion and art, and a Masters of Divinity degree from Luther Seminary in St. Paul, MN.  He was ordained as a minister in the ELCA (Evangelical Lutheran Church in America), and for a time served as a pastor before transitioning into therapy full-time.
Mark feels comfortable speaking and teaching on issues of EMDR and spirituality not only because of his academic study of religion and experience as a pastor, but also because today his practice consists primarily of those seeking to integrate their faith into counseling, many of whom choose to receive EMDR therapy.  His experiences as a therapist, education, and ongoing training in this important area of life have uniquely position him to help consultees more fully understand the impact of spirituality on both client and therapist during the healing process.  He is prepared to provide practical advice and resources around the intersection between EMDR and spirituality for all 8 stages of the therapy process, including unique cognitive interweaves demonstrated to accelerate the healing process.
If you have any questions or would like to set up a consultation session, please call Mark at (844) 872-8625 or fill out the Contact Form below.